Shibu Natesan belongs to a generation of artists from Kerala who studied at the College of Fine Arts in Thiruvananthapuram during the early eighties, a time of continuing change and rebellion against a bureaucratic and stultified art establishment. The films of John Abraham and G. Aravindan were one aspect of the cultural climate of the time, and formative, along with translations of Latin American and African literature, of the minds and attitudes of young artists. His first significant body of work, a series of paintings entitled 'The Futility of Device' derives from a feudal history excavated in painstaking detail, the relics displayed in the grim chambers of memory, symbols of aggression which repeat themselves with oppressive regularity. The atmospheric quality of these works, some of them based on photographs of archaeological remains such as the caves at Ajanta, is heightened by the use of metallic paint on canvas.
Shibu spent two years, between 1996 – '97 at the Rijksakademie in Amsterdam, and his recent 'Missing' series of paintings is representative of the change that occurred during the time. The use of photography here is even more literal, though still adhering to a stubborn involvement with the processes of painting, their capacity to shift and re-focus the gaze to glean hitherto unperceived information.
There is a simulation which resembles the original to a startling degree, but which in fact prompts a set of readings which are contrary to what was intended, thus displacing the meaning without significantly altering its appearance. Things are not what they seem to be; the actuality and sanity which these images once claimed is suddenly suspicious.
Sreekrishnan K P, a film maker, video artist and curator talks with Shibu Natesan on his approach towards art practices and intricacies of his latest works exhibited in the mega show (Lokametharavad).
Sreekrishnan:
Your behold on multiple materials seems very piquant. It's not merely a sculpture's gaze; surely the play of a sculpture lies in this specific body of work on which we are going to talk.
Ceramics to capsule covers as materials for your paintings. How do you pick multiple materials to make so? The query is not about the medium you use but about the materiality of objects you paint?
Shibu Natesan:
I use all varieties of things as my accoutrements. I could only paint it when I saw a visual balance or a sense of harmony among them.
Sreekrishnan:
There is a play of visual balance in your drawings for sure. But what kind of harmony have you mentioned? Is the Harmony of that material with the whole environment or an inner harmony?
Shibu Natesan:
What is inside is what you see outside. Visual harmony is my genesis point. Meaning and all other texts are secondary.
Sreekrishnan:
The actual ceramic sculpture of a dog, the reproduced materiality of the ceramic as well as the materiality of the medium is being used in your drawings. How could these various aspects coalescence into the play?
Shibu Natesan:
Through its visual presence, the Light.
Sreekrishnan:
And what about the stone and the reverent figure of Murugan?
Shibu Natesan:
For painting, everything is the same and the only difference is in our amalgamation with it. It's the stone and Murugan that are linked in such a manner.
Sreekrishnan :
Most of the time the material you use transcends the object you paint. One will get awed by the material presence of that idol of Murugan or that ceramic dog. Do you think so?
Shibu Natesan:
Yes. Idol is a given knowledge here. Any identification is a given knowledge. For me, we transform a physical space into a mental space through painting.
Sreekrishnan:
Now as we talk, you look up visual harmony to lead off a painting. And as you finish the given knowledge of the object you painted will be transcended by the inner dynamics of material. Light brings the surface to existence. But your play with the light makes the inner visible. Is it so?
Shibu Natesan:
I think so. Light is what makes a painting. Author's inner space becomes the viewer's inner space.
Sreekrishnan:
That is why the reverent idol is very much stony in your work. And it's the light which brings the actual effect of the painting.
Shibu Natesan:
Making a painting is an analytical process of actual presence.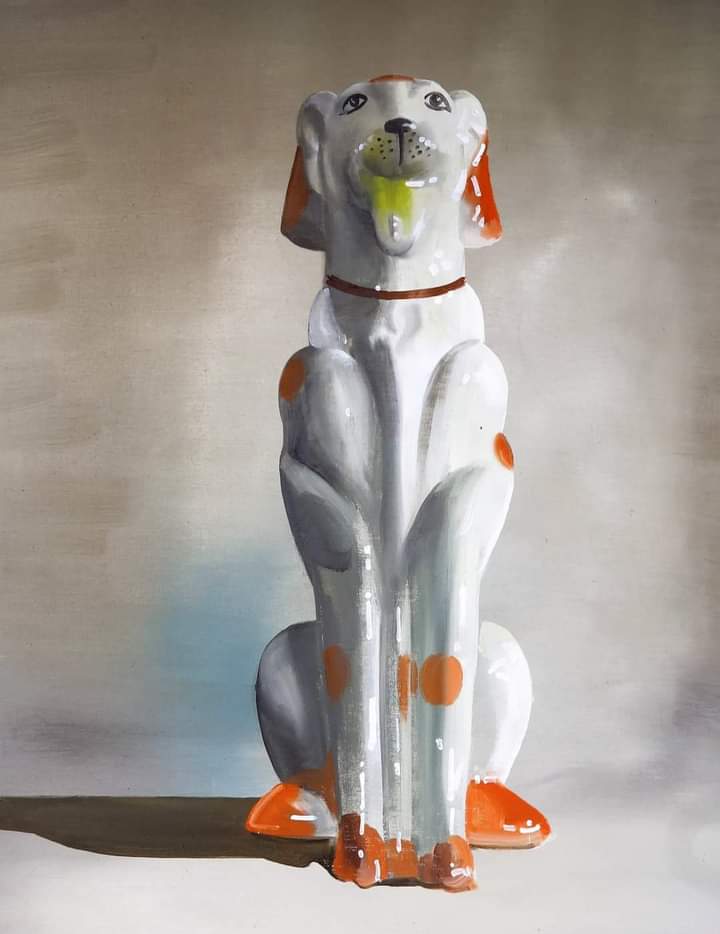 Sreekrishnan:
So, this passion for light takes you to multiple materials in the body of your work, right?
Shibu Natesan:
One of the main things is that the shape and other things also matter. Colour is another vast area in painting. I feel I haven't touched that yet.
Sreekrishnan:
Colour is also determined by the light, isn't it so?
Shibu Natesan:
Even though light is responsible for colour, some painters can be called as 'colourists' because of their peculiar nature of using colours. For Fauvists, German expressionists, painters like Matisse and Andre Derain, 'Colour itself depicts the image'. It invokes a psychological affection on the viewers. Matisse paints human figures in blue and other colours just like our 'karvarnnan', blue coloured lord Krishna. But I'm still not there. I treat colour as how the space and object demand. Perhaps I would reach that zone where the colourists are, at some point in my journey.
Sreekrishnan:
Here one query arises. Does the light reveal the materiality of the object or the other way around? Or is the light itself the materiality of the object? I asked it because certain schools of philosophers consider light as the absolute truth.
Shibu Natesan:
Light and shade create shape. When you look into my painting, you can see yourself there. Appreciation sometimes becomes an investigation. It investigates about yourself.
Sreekrishnan:
Coming to the scale of works you have been doing nowadays, you tend to be happy with small works. Even in the latest mega show lokametharavad curated by Bose krishnamachari, your works on display are very few. Why this new found love of minuteness?
Shibu Natesan:
I have reached a phase where I kept on doing small scale works. Even I don't know if I will again work on large canvases. Painting is a personal process anyway and small works tend to give more personal experience. You can spend more time in front of small works. I had spent a lot of time visiting museums in Europe and found that most of the works we cherish are small in scale. Lokametharavad shows my latest works, which are scant in number but more personal.
Sreekrishnan:
Lokametharavad features a throng of young artists and plenty of works which are on a large scale. What was your experience when you visited Alappuzha?
Shibu Natesan:
Yes, I spent one day in Alappuzha before I hit the road to the Himalayas. Bose krishnamachari has done a good effort to putting up the show. It has given artistic and commercial attention to a number of regional young artists. Large works do get instant attention and commercial gain. But I made my way through that phase enough and I am prepared to do more personal work on a smaller scale. Large scale is important for the industry as it fetches more income with minimum effort. I think the whole show has that element of grandeur and the display also fell in line. But to be very frank, I personally prefer a classical style of display for my works. I wished if the viewers could mount into my works individually with a comfortable breath space and obviously it needs an intimate viewing design which is lacking in this particular show.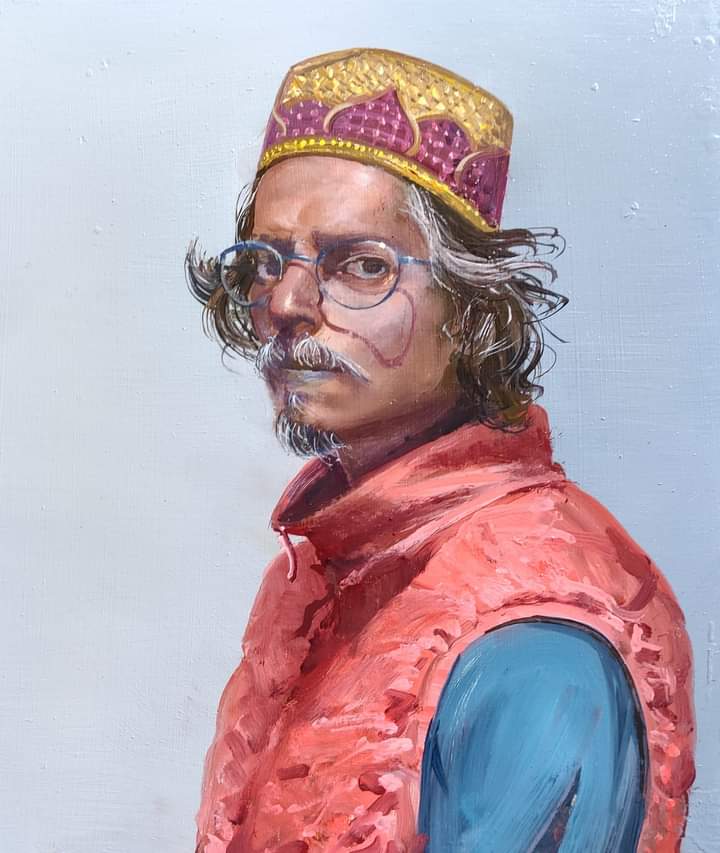 What I noticed positively when I visited the show is the presence of landscapes. Young malayali artists have painted more landscapes. I felt good. Issue based art has a short life span and landscapes can survive longer.
(Sreekrishnan K P, a film maker, video artist and curator, is based in Kerala. His association with contemporary visual artists resulted as documentaries and curating art shows. Sreekrishnan has been collaborating with theatre productions as video artist and curated an exhibition called 'Transition matters' in International theatre festival of Kerala, 2013).
INDEPENDENT,
IN-DEPTH JOURNALISM
FOR SOCIAL &
ECOLOGICAL
JUSTICE

Support Keraleeyam
Choose Your Preference
Also Read