A versatile visual artist, Midhun Mohan has been working on digital and non-digital surfaces for the last ten years. A multimedia collaborator with film makers, theatre makers and as an independent artist, he has produced considerable volume of varied bodies of contemporary art. Now, Bose Krishnamachari has placed Midhun Mohan in his mammoth curatorial effort 'Lokame Tharavadu' show which is still ongoing in Alappuzha. Film maker and art curator Sreekrishnan K.P is talking to Midhun mohan on his recent works. The works chosen for 'Lokame Tharavadu' showcase various bodies of his works in multiple media, made during the pandemic times. His works represent ideas he has been pursuing for long. Some of them open a window to his thought process spontaneously and others may need conscious pondering.
'Boy Hiding a plant' is one of his digital paintings. It is an image from a dream he had. We could find that Images of Monkey and Kindi recur in his works. 'Kindi, a traditional vessel made out of bronze, is a beautiful form and a handy metaphor to connect with several layers of the feudal/cultural past of Kerala. This work juxtaposes imagery coming from two different streams. In his art practice, monkeys are derived from human form, an evolutionary reversal.
'Women from obituary' is a series of portraits from newspaper obits. The obit photos somehow manifest the very aspect of fading away by their blurry, unclear presence. Some images are isolated from group photos which are badly restored and having mundane qualities.
Sreekrishnan:
Blotting is a trending style in Indian art nowadays. As an artist who has pioneered it, can I ask you what was your inspiration behind blotting? What thought drove you to do it for the first time?
Midhun Mohan:
I have been using various types of Glitches in my digital works such as films, videos, digital paintings and designs earlier. While I was doing a triptych of laughing monkeys with soft pastels, in which I was trying to find 'laughter'- usually seen as an exclusive human expression-in non-human forms. To go further, I started smudging them to grasp laughter as a 'pure' form independent of its beholder.
The second work in the laughter series was a smudged image of Gandhi. In my practice, smudging came as a technique of erasure, an act to make disappearing things. Later I made a series of fading portraits of dead women from the obituary, a few works of disappearing Arctic icebergs etc., using the same technique. As you mentioned it as a 'trend', we can clearly locate Gerard Richter as a milestone of this technique, whom I consider as the ultimate 'Glitcher' of paint!
Sreekrishnan:
Richter was from a non digital era and for him, blotting was a physical act. Many art critics have tried to connect his glitching to the trauma of World War II which Richter denied repeatedly. He connected his practice of glitching with 'liberation'. You too connect your practice to reach a 'pure' and 'independent' laughter against the physical 'laughter'. Do some artists feel oppressed or being faked by the physical world around you?
Midhun Mohan:
Yes, in some sense. But it is not a direct response to any kind of oppression or being 'impure' by the physical world. Instead, it is about seeing 'laughter' as an idea or emotion. It is also about the scope of seeking 'liberation' without referring or responding to oppression. Richter had used blurs, out of focus, shakes etc from photography.The aberrations in photography was his starting point to this sort of abstraction which later resonates with the digital aesthetics.
Sreekrishnan:
You mean to say the 'physical world' from which you people hit creative impulses for drawing or painting itself is an abstraction? And through that abstraction on the physical drawing or painting, you get 'pure' joy which has no connection with 'responding to the physicality of the world'?
Midhun Mohan:
It is not always the 'physical world' – as the word leaves me with an impression of a concrete, all encompassing, grand structure- from which the artist derives the creative impulses from, I think. It could be the voids in what is perceived, or gaps we can only fill with imagination. If there is any physicality to be considered as inevitable in the process of art making, it is the physicality of the artwork itself.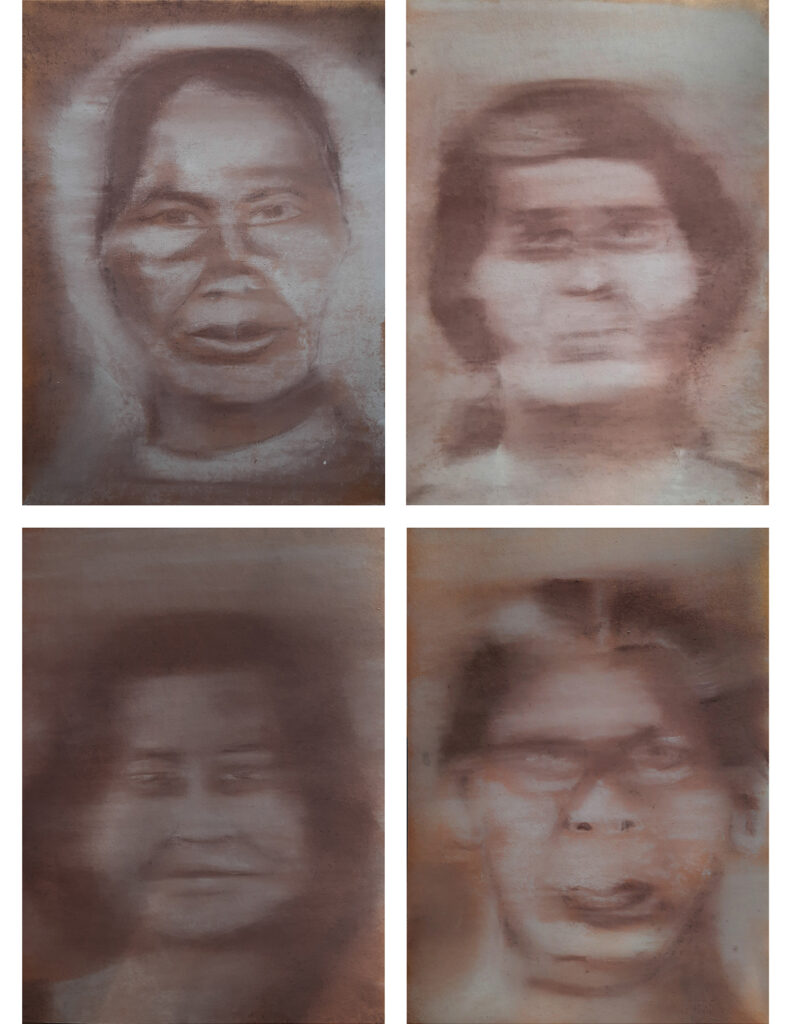 Sreekrishnan:
You had your works being exhibited at 'Lokame Tharavadu' curated by Bose Krishnamachari. What kind of responses have you received from the exhibition?
Midhun Mohan:
Apart from my kith and kin, some artists, art students and a gallery recognised and appreciated my works exhibited at 'Lokame Tharavadu'.
Featured image: The thinkers examining the moon
INDEPENDENT,
IN-DEPTH JOURNALISM
FOR SOCIAL &
ECOLOGICAL
JUSTICE

Support Keraleeyam
Choose Your Preference
Also Read